Battle of the River Plate
13th December 1939.
The German pocket battleship Admiral Graf Spee intercepted what was thought to be a small convoy of merchant ships 150 miles off the River Plate estuary. The convoy turned out to be three British cruisers of Commodore Sir Henry Harwood's squadron. Consisting of the light cruisers HMS Ajax (flagship of Commodore Sir Henry Harwood, RN, Capt. C.H.L. Woodhouse, RN in command), HMNZS Achilles (Capt. W.E. Parry, RN) and the heavy cruiser HMS Exeter (Capt. F.S. Bell, RN).
They initially identified the Graf Spee's smoke as a merchant ship and HMS Exeter was detached to take a message to her, but soon the mistake was realised. With the British squadron now split (as planned before the battle) action commenced at with the Admiral Graf Spee opening fire at 0615 hours.
The subsequent battle saw the cruiser HMS Exeter badly damaged with all her guns put out of action but still seaworthy, she suffered 61 killed and 23 wounded and was forced to make for the Falkland Islands to carry out repairs. HMS Ajax and HMS Achilles were both damaged and suffered casualties, HMS Ajax 7 dead and wounded and HMS Achilles 4 dead. They both shadowed the Admiral Graf Spee into Uruguay territorial waters where she entered the port of Montevideo.
The Admiral Graf Spee suffered 36 dead and 60 wounded, hit by seventeen 6 inch shells and two eight inch shells, with water purification and desalination plant destroyed and kitchens wrecked she was allowed just 72 hours to make good her the damage that threatened her seaworthiness she was unable to do so.
On the 17th December she left Montevideo with a skeleton crew, anchored just outside the 3 mile limit and after the crew left her she was blown up and scuttled to prevent her falling into British hands. Her captain later shot himself.
For more information of the battle; Click Here
The above article 'Tidings of Comfort & Joy' was submitted to Aspect County Magazine. Written by Roger Paine Cmdr RN Ret'd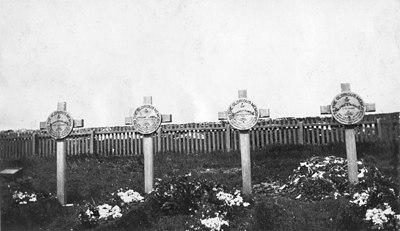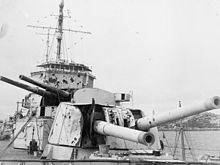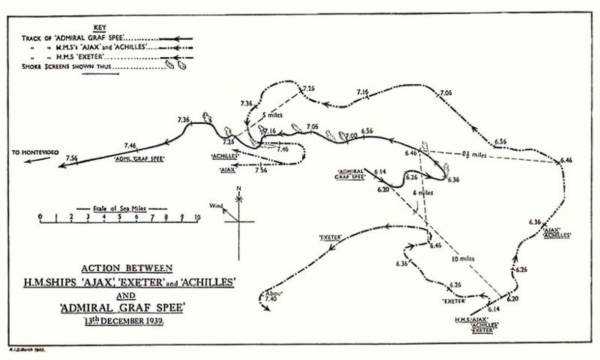 Patrick Northcott interviewed by the Imperial War Museum, about his whole WW2 experience. He talked about joining the Exeter, the earthquake in Chile, the outbreak of the war and encounter with the Graf Spee. (Among other things).
The Battle of the River Plate took place on December 13th 1939. The battle in the South Atlantic was the first major naval battle of World War Two. Ships from the Royal Navy's South American Division took on the might of Germany's Graf Spee which was successfully attacking merchant shipping in the South Atlantic.
Great Britain's South American Naval Division was made up of four cruisers. On Saturday, December 2nd,1939, HMS Ajax, commanded by Captain Woodhouse, was harboured at Port Stanley in the Falkland Islands. Also at Port Stanley was HMS Exeter, commanded by Captain Bell. Two other ships made up the South American Division – HMS Cumberland, commanded by Captain Fallowfield, and HMNZS Achilles, commanded by Captain Parry. The commander of the South American Division was Commodore Harwood.
"Graf Spee" claimed three more victims to bring the total to nine ships of 50,000 tons, before heading for the South American shipping lanes off the River Plate. Cdre Harwood with Hunting Group G - 8in-gunned cruisers Exeter and Cumberland and 6in light cruisers Ajax and New Zealand Achilles - correctly anticipated her destination. Unfortunately "Cumberland" was by now in the Falklands. At 06.14 on the 13th, 150 miles east of the Plate Estuary, "Graf Spee" (Capt Langsdorff) was reported to the northwest of the three cruisers [1 - see map]. Faced with "Graf Spee's" heavier armament, Cdre Harwood decided to split his force in two and try to divide her main guns. "Exeter" closed to the south while the two light cruisers worked around to the north , all firing as they manoeuvred.
"Graf Spee" concentrated her two 11in turrets on "Exeter" which was badly hit . By 06.50 all ships were heading west , "Exeter" with only one turret in action and on fire. "Ajax" and "Achilles" continued to harry the pocket battleship from the north , but at 07.25 "Ajax" lost her two after turrets to an 11in hit and "Achilles" already had splinter damage. HMS Exeter was forced to break off and head south for the Falklands , but "Graf Spee" failed to press home her advantage. By 08.00, still with only superficial damage, she headed for the neutral Uruguayan port of Montevideo, the cruisers shadowing. "Graff Spee" entered port at midnight. As other Allied hunting groups headed for the area, much diplomatic manoeuvring took place to hold her there. Finally, on the 17th, Capt Langsdorff edged his ship out into the estuary where she was scuttled and blown up. Only "Cumberland" had arrived by this time. Langsdorff then committed suicide.
"Exeter Memories" website links:
Why not check out the reminiscences of former EXETER Ships' company members on the Imperial War Museum site here. (Highly recommended)