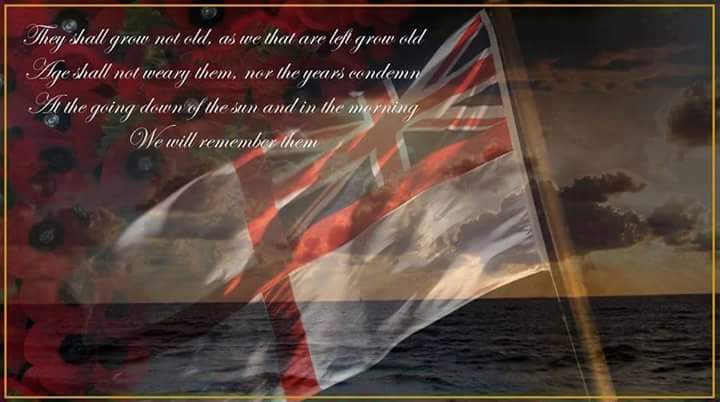 The HMS Exeter Association would like to pay tribute to all those who served on HMS Exeter either 68 or D89.
If you know of anyone who is not listed and who may have passed recently, please do let us know.
Crossed the Bar
Sadly some of our shipmates remain on patrol or have passed on since the ships did:
Name: Date:
Steve Lunt 22nd October 2020
Lee Neal June 2019
Paul Harvey-Hunter. 1st June 2019
Tony (Benny) Benton 26th December 2018
Steve Wilkinson 6th November 2018
Allan Heath 12th July 2017
Graeme Philip Allen 15th March 2017
Dougie Grant (68) 2nd January 2017
George Gaskell (68) 27th December 2016
Joe Asher (68) 15th December 2016
Danny Daniel 15th Sep 2016
Colin Coulson 15th August 2015
Dave Ashford. 10th May 2009
Christian Key 3rd October 2008
Dave Austen 25th November 2007
Scott Kirby 11th July 2006
Hugh Balfour 29th June 1999
Tony (Creepy) Crawley 1999
Billy Connolly 1982
Adrian Sunderland 25th May 1982 (KIA HMS Coventry)
Ron Fisher
In Waters Deep
In ocean wastes no poppies blow,
No crosses stand in ordered row,
Their young hearts sleep... beneath the wave...
The spirited, the good, the brave,
But stars a constant vigil keep,
... For them who lie beneath the deep.

'Tis true you cannot kneel in prayer
On certain spot and think. "He's there."
But you can to the ocean go...
See whitecaps marching row on row;
Know one for him will always ride...
In and out... with every tide.

And when your span of life is passed,
He'll meet you at the "Captain's Mast."
And they who mourn on distant shore
For sailors who'll come home no more,
Can dry their tears and pray for these
Who rest beneath the heaving seas...

For stars that shine and winds that blow
And whitecaps marching row on row.
And they can never lonely be
For when they lived... they chose the sea...
by Eileen Mahoney:
A useful aide memoir for funerals of former Royal Navy personnel (thank you Dean Deakins)