2016
5 July -Exeter Armed Forces Day
7th October -Danny Daniels Funeral
7th October - Informal get together Plymouth (venue: Maritime Pub, Barbican. Time: 20:00 onwards. Contact Jess for details)
13th November - Exeter Rememberance Day/London Cenotaph
17th December - Informal Gathering in Old Portsmouth (Spice Island Inn) (Full details on Facebook group)
2017
27th Feb - 4th March HMS Exeter In a display at Totnes Library (The Mansion, 36 Fore St, Totnes TQ9 5RP)
3/4th March - Exeter Reunion and parade (More info here)
10th March - Wreath laying at the grave of Captain Becket RN (Former CO of HMS Exeter (68), died 10/3/41) Warblington Cemetery, Nr Emsworth)
19th May - Crew of '82 reunion JSASTC Hornet (contact Len Brownsword via Fb etc for details etc)
21st May - 35th Anniversary Falklands event, Gosport. Parade (Exercising our Freedom to march through the town)/Reception/Possible concert on the Saturday if enough interest.......Register YOUR interest at info@falklandsveterans.org.uk asap More info here.
May - '82 crew reunion
June 11th - Falklands Memorial Service Pangborne College. More info Here.
August Bank Holiday - Fun In The Field (Berwick St John, Nr Shaftesbury,Dorset) Serving and ex Matelots/Camping/Clay Pigeon shooting/cannons/Live music/Beer/Matelots/Uckers/Sod's Opera/more beer.....What could possibly go wrong? More info here.
15th August FEPOW Day
10th Sep CONA parade (Whitehall) (a sort of Remembrance day equivalent for RN Associations) Associations and individuals related to the Naval Service are cordially invited to march with their Shipmates and to parade their Standards with the RNA National Standard, RNA Area, RNA Branch Standards, Confederation of Naval Associations Standards and Guest Standards. The Royal Navy will be represented by two platoons of Trainees from HMS Sultan and HMS Collingwood, their Commanding Officers and Portsmouth establishments volunteer bands. 1025 Parade Forms up in King Charles Street. Refreshments on completion in Civil Service Club.It is anticipated that standards and marchers will parade from AFAFN/NVOZM (Belgium). Once again there will be marchers and a Standard from the Irish Naval Association.There will be a higher level of security this year, following terrorist incidents in London,
21st October River Plate group memorial event - Plymouth Hoe (More details to follow)
12th November - Remembrance day. Cenotaph coach details: £15 return. Pick up points are Cherque Farm Roundabout - Lee on Solent - 06:00, Cocked Hat, Gosport - 06:10, Green Dragon, Rowner Rd, Gosport - 06:15, West St, Fareham - 06:20, Commercial Road, Portsmouth - 06:40, Holiday Inn Express Farlington - 6:50, Waterlooville - 07:00
Arrive Cenotaph - 09:00 Depart at 15:00 to return.If you want a seat, please let Dougie Leask know what pick up point you require. Pay on the coach on the day.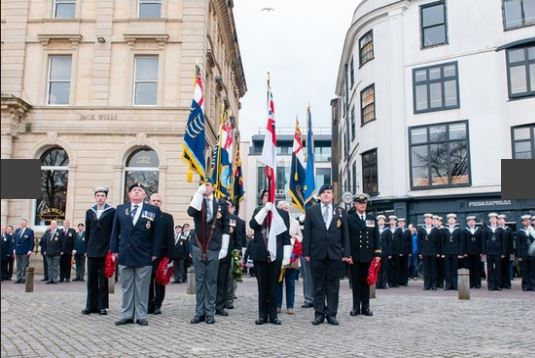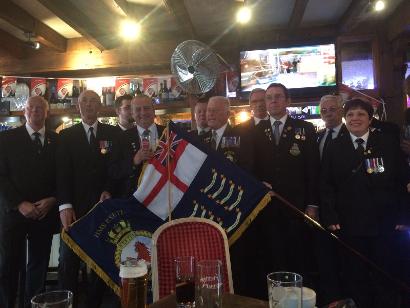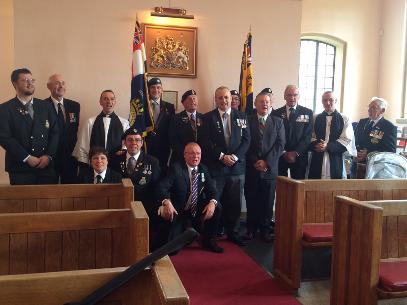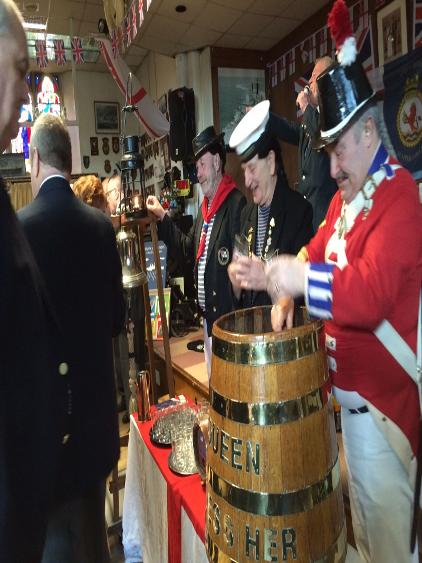 Association visit to HMS Defender
Today, the 25th April 2017 nine of us HMS Exeter Association Members were treated to a visit to HMS Defender in Portsmouth Dockyard. Once formed up inside Nelson Gate we were taken by minibus to the Refit Support Group area for coffee. We then all changed into white protective suits, safety boots, hard white hats and safety glasses and looked like 'flour graders'. With our 'smart uniforms' we approached HMS Defender in dry dock and accepted the opportunity of climbing down into the dock to stand underneath the ship and be briefed on the parts of the ship we could see. That was a great experience and so was the effort required to climb back up out of the dock. Then we went inside the ship and visited several areas with briefings about what we could see in each area. Climbing up and down the stairs was interesting with the unfamiliar safety boots that we were wearing, but we all managed, despite our age. Special thanks must go to WO Jonnie Roome and his team for their efforts in showing us round the ship. After that we were able to remove the safety suits and equipment changing back into jackets and normal shoes for the next stage. The minibus then gave us a tour of the dockyard back to Nelson Gate. For the next part we were treated to lunch in the HMS Nelson Wardroom, which was a great experience with all of the oak panelling and paintings of the 'Battle of Trafalgar'. From the whole visit those of us who were lucky enough to be present wish to give their special thanks to the sponsor of the visit, Lt Cdr Sean Trevethan, and very special thanks to our host though out the visit, Lt Greg Sinclair. We all really enjoyed the visit and further developing the links between our Association and the ships Company of HMS Defender. Thanks to all concerned.
From Peter Cox HMS Exeter Association Committee Macassar Rep. on behalf of those who attended the visit.