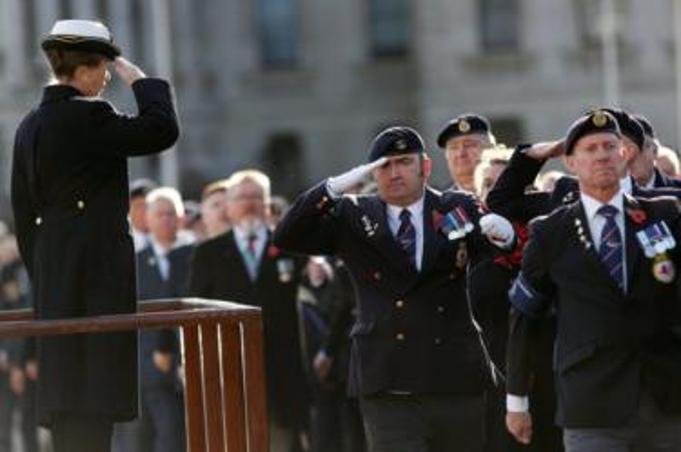 From the BBC website
today 11/11/18
Events in 2018
20 October @ 1100 River Plate Memorial Service - Plymouth naval Memorial
20 October @ 19:30 River Plate Annual Dinner - The Duke of Cornwall Hotel PL1 3LG Plymouth
11 November @ 1100 HMS EXETER contingent marching at the Cenotaph, London (for the first time) Watch out for us on TV!
Do you want an Event?
If you wish to arrange or seek an event in your area. Advertise an event etc..
Contact your committee we are here to help you, our members!

Past events
2018
Friday 2nd March

- HMS Exeter Association Reunion Weekend Formal Dinner, held at the Mercure Hotel, Exeter. Tickets priced at £25 per person. For more info, Click Here
Saturday 3rd March

- HMS Exeter Association Reunion, includes a Civic Reception, Cathedral Service lunch & evening reunion. Priced at £25 per person. For more info, Click Here
Sunday 4th March - HMS Exeter Association will be holding a small intimate remembrance service for the Macassar's, followed by the AGM. For more info, Click Here

11th August @ 1900 Informal gathering & meal - VJ Remembrance weekend. Best Western Tillington Hall Hotel in Stafford

12th August @ 1030 COFEPOW AGM & VJ Commemoration Service National Memorial Arboretum in Alrewas

18th August @1900 91 Crew Reunion. Portsmouth, Venue TBC
2017
Saturday 16th December - HMS Exeter Association Informal Christmas Drinks, The Maritime Inn, Plymouth. For more info, Click Here - Event Cancelled due to lack of interest at this time.

Saturday 25th November

- Birmingham International Tattoo.

Britain's biggest indoor international tattoo, with over 1,000 performers, will return to The Barclaycard Arena in Birmingham at the end of November 2017 bringing together marching bands, exciting displays and culminating in the spectacular Grand Finale featuring all the performers in a spectacle of pomp and pageantry.

For more info,

Click Here
Sunday 12th November -

HMS Exeter Association parades at Remembrance Day Ceremonies, Cenotaph, London. This being the first time we have applied, we have secured 32 spaces all of which we are delighted to announce have been filled. Full details of; what to wear, timings, coach, food etc.

For full details, Click Here
Sunday 22nd October - The Exeter Flotilla will be holding it's 44th Trafalgar Service within Exeter Cathedral at 11:00. If you wish to attend please confirm number of seats required by Sunday 15th October to ensure seats are reserved. Email: hms_exeterassociation@hotmail.com
Saturday 21st October - River Plate Association Commemoration Service, Naval Memorial, Plymouth Hoe at 11:00. There is a dinner in the evening at the Crown Plaza from 19:00 a cost of £24 per person. For full details, Click Here
10th Sep CONA parade (Whitehall) (a sort of Remembrance day equivalent for RN Associations) Associations and individuals related to the Naval Service are cordially invited to march with their Shipmates and to parade their Standards with the RNA National Standard, RNA Area, RNA Branch Standards, Confederation of Naval Associations Standards and Guest Standards. The Royal Navy will be represented by two platoons of Trainees from HMS Sultan and HMS Collingwood, their Commanding Officers and Portsmouth establishments volunteer bands. 1025 Parade Forms up in King Charles Street. Refreshments on completion in Civil Service Club.It is anticipated that standards and marchers will parade from AFAFN/NVOZM (Belgium). Once again there will be marchers and a Standard from the Irish Naval Association.There will be a higher level of security this year, following terrorist incidents in London.
15th August-FEPOW Day
August Bank Holiday - Fun In The Field (Berwick St John, Nr Shaftesbury,Dorset) Serving and ex Matelots/Camping/Clay Pigeon shooting/cannons/Live music/Beer/Matelots/Uckers/Sod's Opera/more beer.....What could possibly go wrong? More info here.
June 11th - Falklands Memorial Service Pangborne College. More info Here.
May - '82 crew reunion
21st May - 35th Anniversary Falklands event, Gosport. Parade (Exercising our Freedom to march through the town)/Reception/Possible concert on the Saturday if enough interest.......Register YOUR interest at info@falklandsveterans.org.uk asap More info here.
19th May - Crew of '82 reunion JSASTC Hornet (contact Len Brownsword via Fb etc for details etc)
10th March - Wreath laying at the grave of Captain Becket RN (Former CO of HMS Exeter (68), died 10/3/41) Warblington Cemetery, Nr Emsworth)
3/4th March - Exeter Reunion and parade (More info here)
27th Feb - 4th March - HMS Exeter In a display at Totnes Library (The Mansion, 36 Fore St, Totnes TQ9 5RP)
2016
17th December - Informal Gathering in Old Portsmouth (Spice Island Inn) (Full details on Facebook group)
13th November - Exeter Remembrance Day/London Cenotaph
7th October - Informal get together Plymouth (venue: Maritime Pub, Barbican. Time: 20:00 onwards. Contact Jess for details)
7th October -Danny Daniels Funeral
5 July - Exeter Armed Forces Day