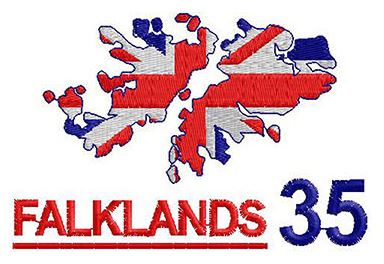 HMS Exeter 82 Crew Reunion:
HMS Exeter Association members joined together on Friday 19th May, at the Hornet Sailing Club, Gosport, where the 82 crew were to remember those who fought valiantly during the Falklands.
Len Brownsword, explains how the weekend came about and what it means to him;
Due to some clashes, the FVF and Gosport Council decided to bring the F35 weekend forward by a week. It is usually held on the May bank holiday weekend and as it is a long weekend the turnout is fantastic. I thought this move would be detrimental, how wrong could I be.

I decided to try and organise the usual Exeter 82 reunion on the Friday to coincide with the F35 events of the weekend and after a few weeks of posts on Facebook and the Exeter site, I thought I may have to cancel. Once again the ships companies of HMS Exeter would pull together to prove me wrong. Suddenly names started pouring in and we closed the list with almost 70 names on it.

Hornet Services Sailing Club was the venue and it turned out to be an excellent choice. They looked after us extremely well and we all thank them for that. For just £10 per head and a few contributions from attendees, we had an excellent variety of food, enough RUM and PORT to put a list onto the old girl herself and a free bar for most of the evening.

Robbie Craig presented an inscribed tankard to the Association as part of the up spirits routine that went down very well, thank you Robbie, this tankard will now travel to every reunion for the use thereof. I am sure it will be filled on many an occasion.

Many tots and beers were consumed with the usual outcome of people falling over (including my dear wife) many dits being told and of course a good old sing song. It turned out to be a fantastic evening.

At this stage I would like to thank the none 82rs for coming along and joining in the celebrations, I know you all enjoyed it and I hope you will attend our 82 reunion in future; you are all welcome and are now honorary; 'BLUE BOTTOM CREW'.

Many other ships held their reunions that day but none were as well attended as D89, goes to prove what a fantastic ship she was. I thank the ones that assisted me in the setting up and organising on the night especially Dougie Leask for a brilliant reading, Deaks for organising up spirits, my daughter Joanne for to be honest doing most of the organisation and of course Jess and the Association Committee for their backing. Last but by no means least my wife Carol for putting up with this grumpy and at times panicking and worried former matalot, in the run up to the event.

By the end of the night and looking at the state of the ones that lasted till the end (most of you), I thought there would be no chance that the rest of the weekend could be going that well. Once again how wrong could I be. Not only did most of you make it to HMS Sultan on the Saturday for the FVF reception, you managed to fit in a DTS (Dinner Time Session) in between and still had the largest amount of attendees.

Once again the HMS Exeter ships company had excelled and shown the rest how it should be done!

There was of course no chance of anyone making the march through Gosport on the Sunday morning so I retired thinking I would awake and travel down to Gosport to see how many did make it. I was half way down the high street with HH when I of course heard the welcoming voice of our very own 'Gob on Legs' taking charge, he had managed to get everyone fallen in and ready to march on EARLY. As we took our positions in the parade I looked round and once again there they all were, HMS Exeter ships company looking very smart and as usual having more turn out than any other Ship or regiment.

After the march some of us attended the reception that was laid on by Gosport Council, followed of course by drinking in various hostelries before eventually raising the white flag and retiring hurt early Sunday evening. By the way some of the lads and lasses were still going strong at that time. A great weekend was had by all.

Monday morning was to be a sit in the garden and recover time, but no, I was reminded that we were meeting my family and going over to Pompey for a meal and of course a few wets. When will I ever learn, indeed why do I do this at all? The reason is D89, HMS EXETER! The ships companies that served on her, especially the ones I served in the Falklands with.

Thank you all for being such a fantastic bunch of HUMAN Beings, SEMPER FIDELIS.

It was great to meet some of the 'younger' Exeter's, Tom Wilson being one of them, he served on the Exeter between Oct 2006 - Oct 2008.
He attended the 82 Crew Reunion on Friday night with all of us, he said; "Initially I wasn't into associations when I joined the Navy. I decided to join the Type 42 Association after the decommissioning of HMS Edinburgh.

The Exeter reunion I attended was a fantastic opportunity to meet and interact with members the crew from the First Commission right the way up to Last Commission. The "younger" Exeter's such as myself were made to feel welcome by all those attended.

The event is a fantastic chance to meet up with old shipmates as well as to meet those who served onboard Exeter throughout her life.

As someone who served aboard during the Last Commission era I was made to feel welcome by both crews of the Exeter, the Mighty Fine D89ers as well as those who served aboard the Cruiser HMS Exeter during the Second World War."

I must say 'Thank You' to one other person, the founder of FVF and organiser of the F35 weekend; Smokey Cole, Cheers Smokey.


Written by; Len Brownsword.
On behalf of all those who attended the reunion and F35 anniversaries.

Below are a selection of pictures from the weekends events.