Tell us your stories or those of your family members who served during this time
The following link is written by Cecil Rowse. My Grandad Arthur Douglas Marsh known as Dougie is mentioned by Cecil under the title Practically Starved.
My Grandad like so many died young after surviving the camps and sinking of Exeter. He also like so many very rarely talked about his experiences, only to say he had a best friend and they kept each other alive in the camps.
My Grandmother very sadly in her grief when my Grandad died in 1974 destroyed all memory of my Grandad, medals and photographs all were thrown away.

All my life ( I never knew my Grandad ) I wondered about my Grandad's HMS Exeter story. Something totally incredible happened several years ago when I contacted the wonderful Tom Jowlett of HMS Exeter and Macassar reunion group. He put my Grandad's name on the invites for the next reunion asking if anyone recalled my Grandad. I was told there was very little hope as only a few men were still alive.

Out of the blue one day I received a phone call from Cecil Rowse's widow. She said "hello I would like to tell you that your Grandad saved my husbands life".
When Cecil became dangerously ill with Beri Beri my Grandad traded with a Guard his wedding ring for Vitamin B tablets saving Cecil's life. It is quite amazing that he was able to hide his ring from the Japanese as these poor men were only left in rags and all jewellery was taken.

My family and I went on to meet Cecil's wife and his three children and Grandchildren. They had always known about my Grandad but we had never known this story. It was fantastic to meet them.
Read the full story, Click Here
Jim London has a road named after him in Ontario, Ajax, Canada.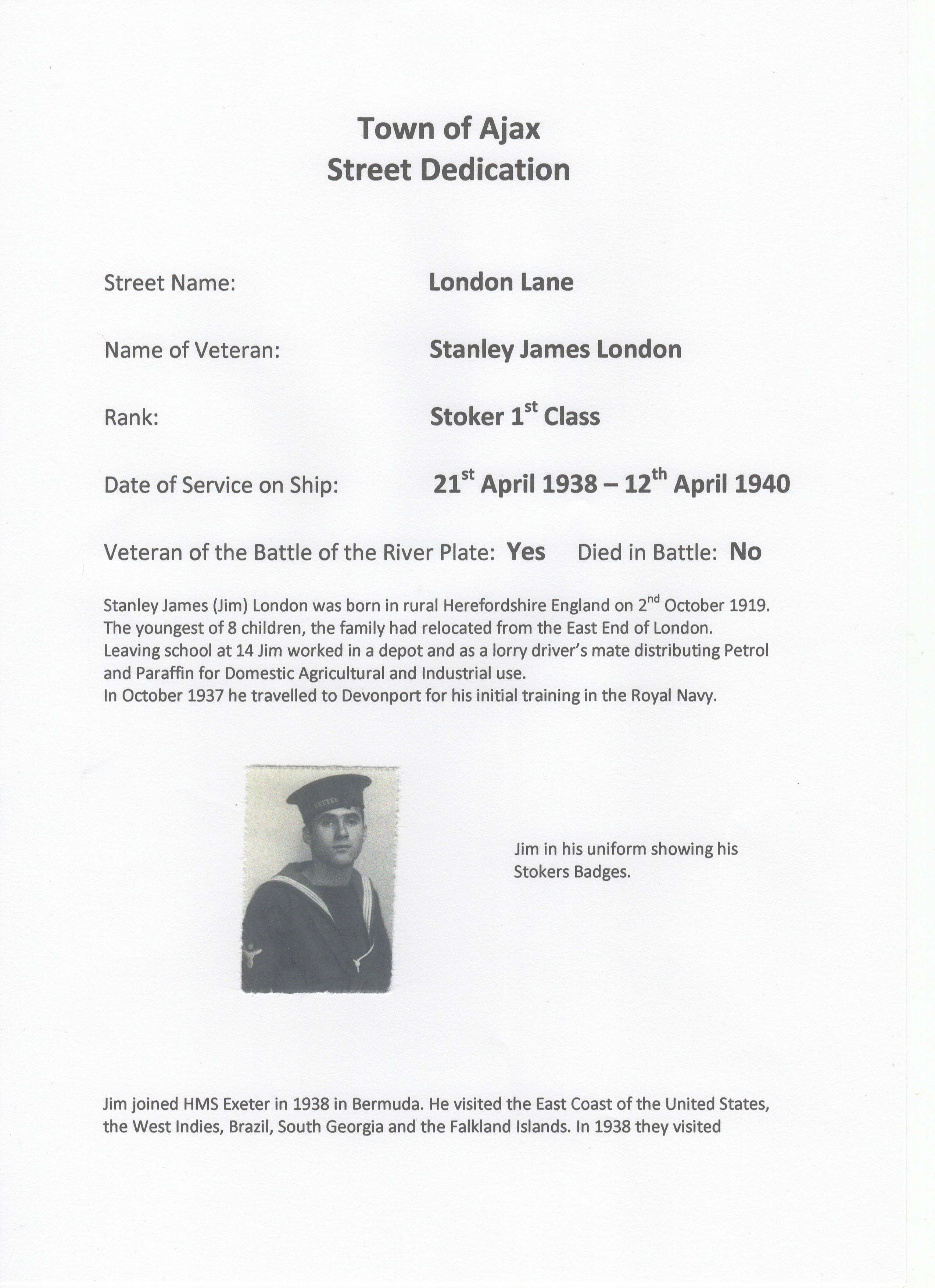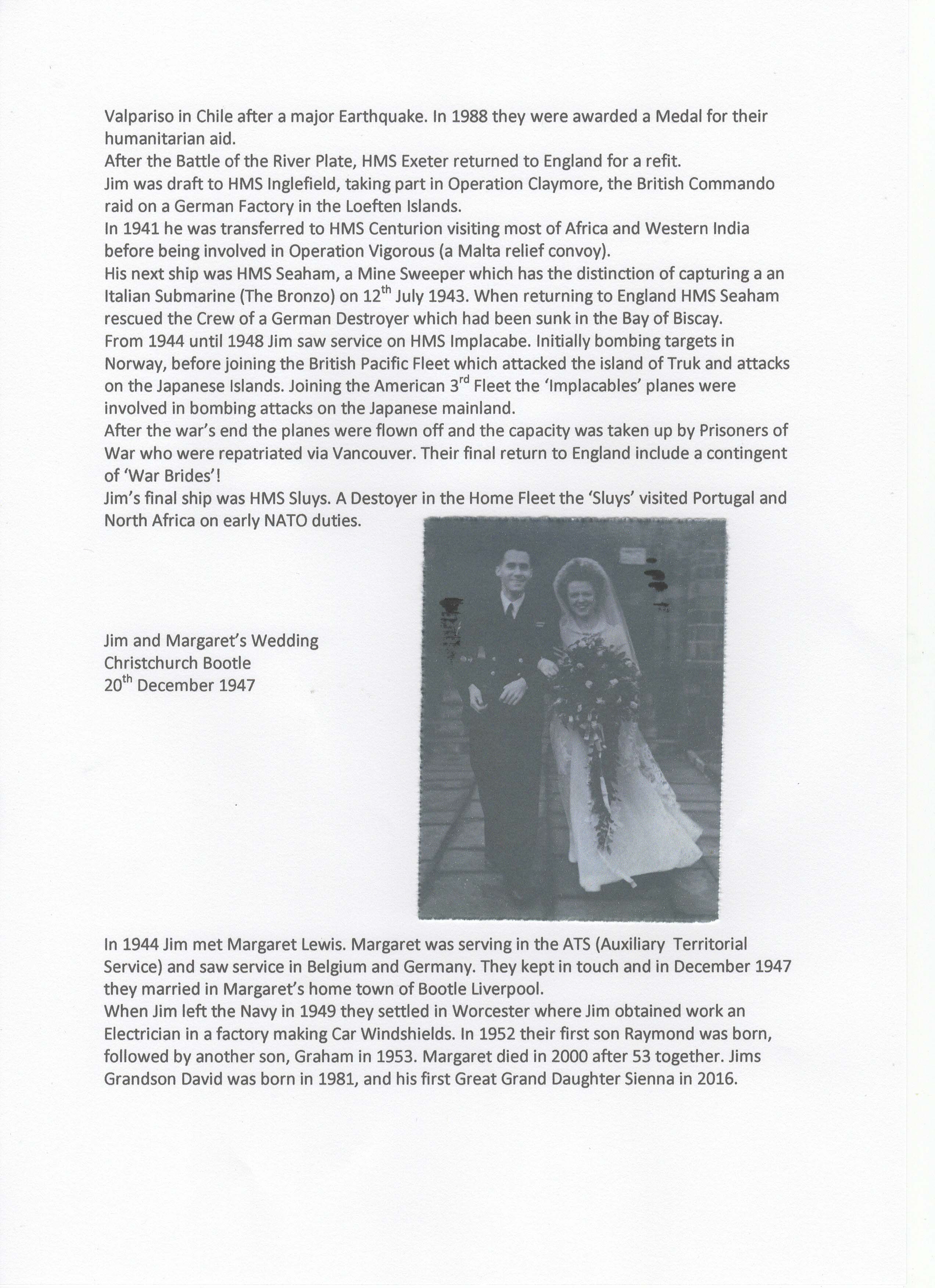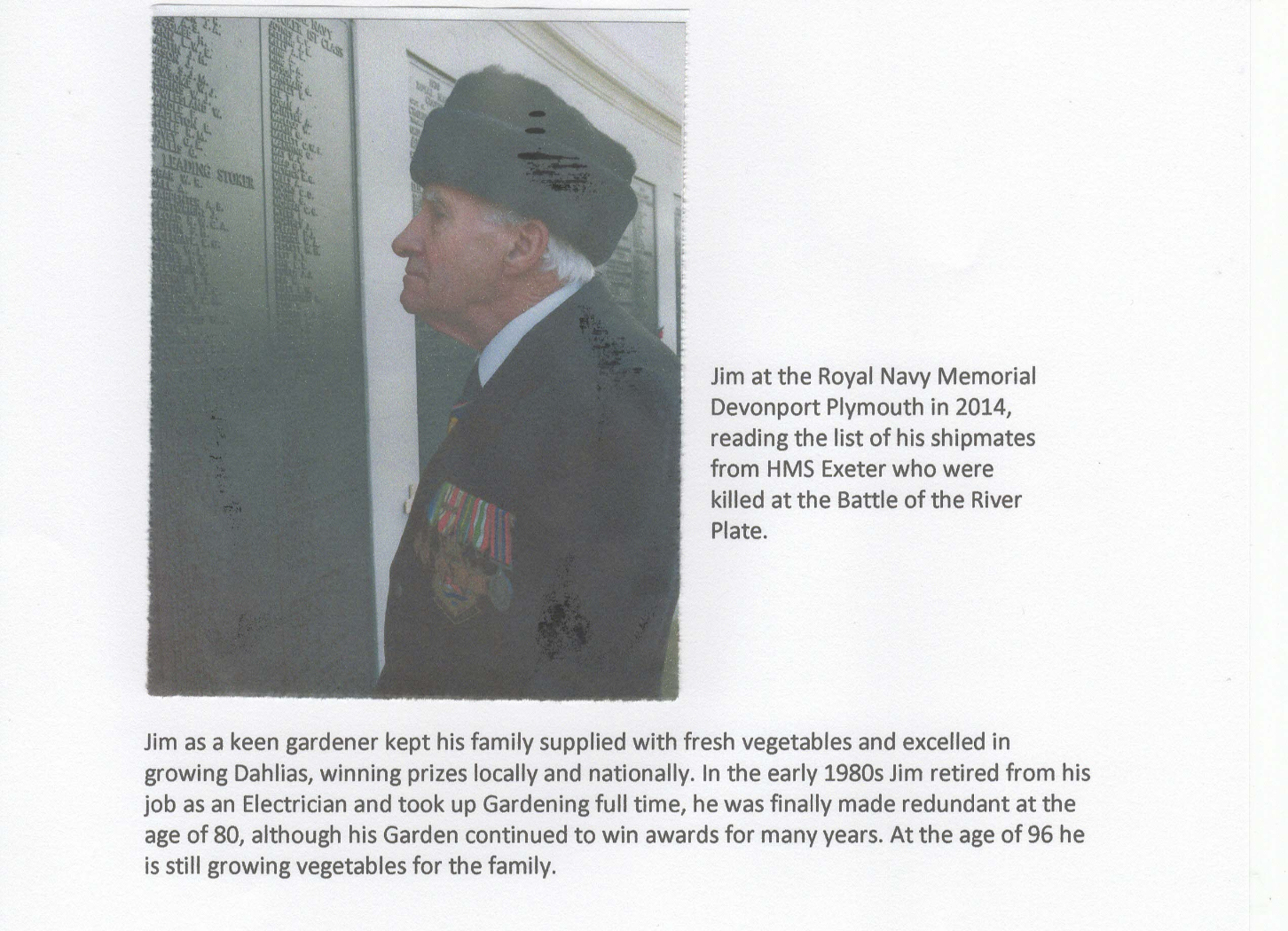 Jim with Rear Admiral Bennett and his name plate 2017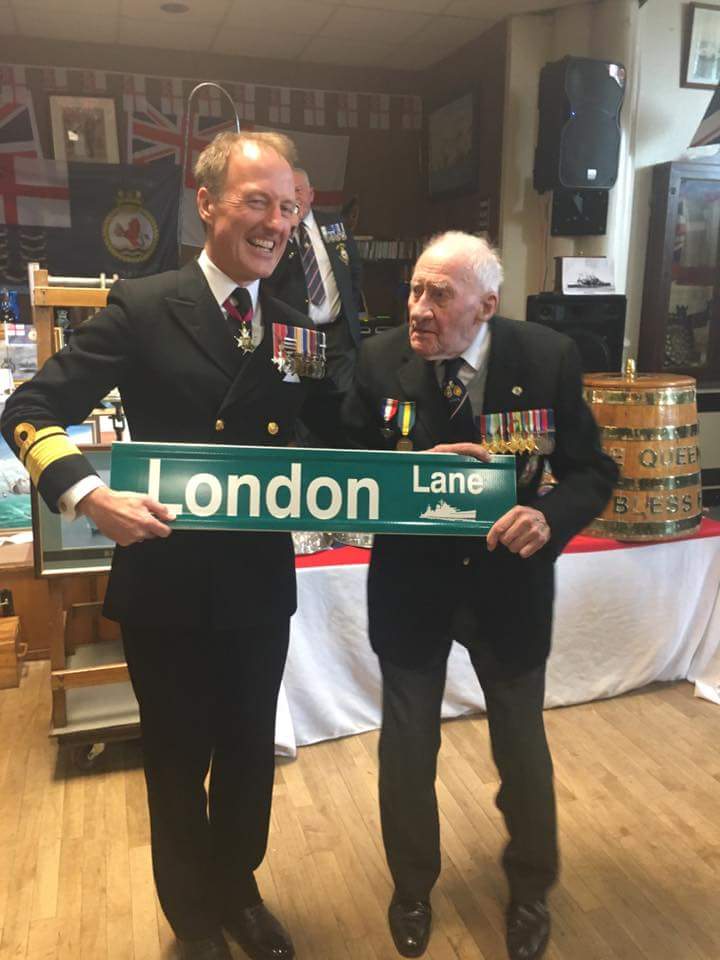 Recollections of HMS Exeter (68) are included in an interview given to the IWM by Former Lt (Midshipman on Exeter's last voyage) Graeme Philip Allen (Sadly recently crossed the bar)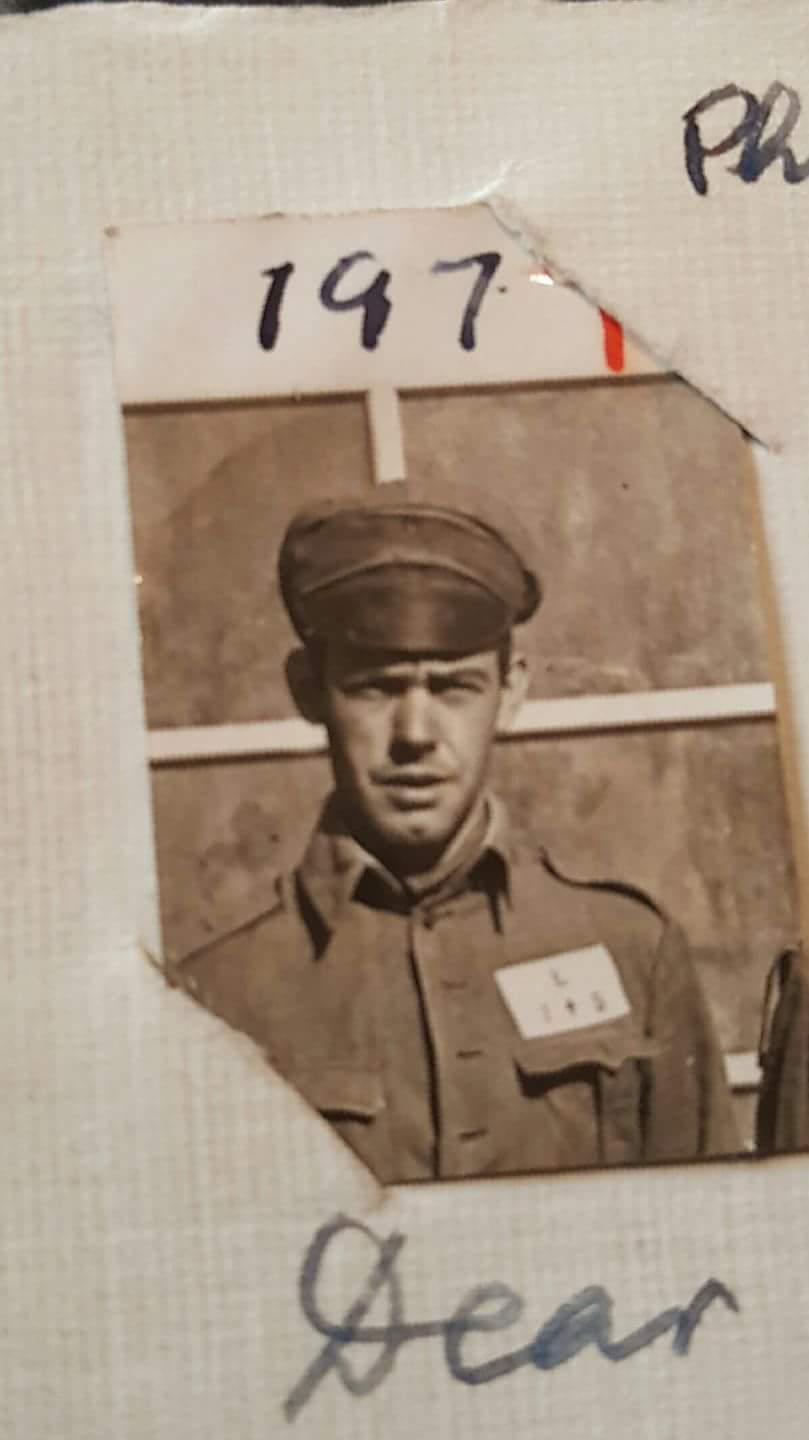 This is Paul Barsi's uncle William Thomas Phillips. Yeoman of Signals with the Exeter at the Battle of the Java Sea. He died as a POW in Fukuoka no 2 Japan.
Thank you Robert Graham, for some information on Captain Kudo Shunsaku, ("Kudo" is the family name). His ship, IJN Ikazuchi, "Thunder" and also, Lt Cdr Takeuchi Hajina, "warrior household" his ship IJN Inazuma, "Lighting".

Sir Sam Falle, from Frome, remembers the words of "Kudo" which Sam has never forgotten, when he was rescued in the Java Sea, "You are the guests of the Imperial navy, You fight bravely, I admire English Navy". If you look up on Google, BBC Somerset officer tells of extraordinary rescue, 18-12-2008.

"Japanese TV and Oniazuma present the story of IJN Captain Kudo Shunsaku, who risked the safety his destroyer and its crew to save 442 British sailors in the midst of battle during World War 2. Later in the war, the destroyer was sunk, sending most of the Japanese crew who had taken part in the rescue operation to their graves.

Captain Shunsaku, who had earlier been transferred to another command lived until 1975, but never told anyone about the event. It was only through one former British sailor, who had come to Japan to find and thank Captain Shunsaku, that the Japanese people were able to find out about the honourable actions of Kudo Shunsaku and his crew.